Nav Map
Only a very simplified IFR-navigation map.
Military aircrafts use moving topographic maps.
Not included here. Separat apps exist!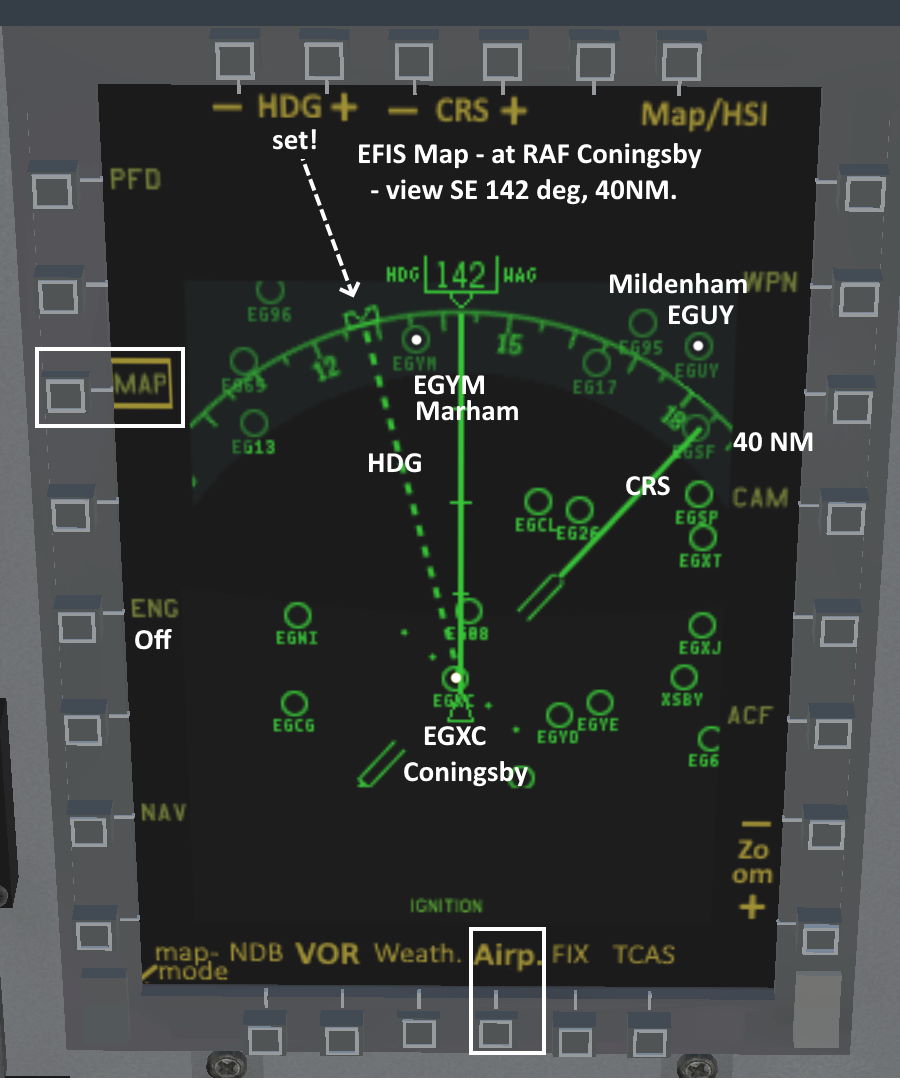 MAP with VORs



MAP with HSI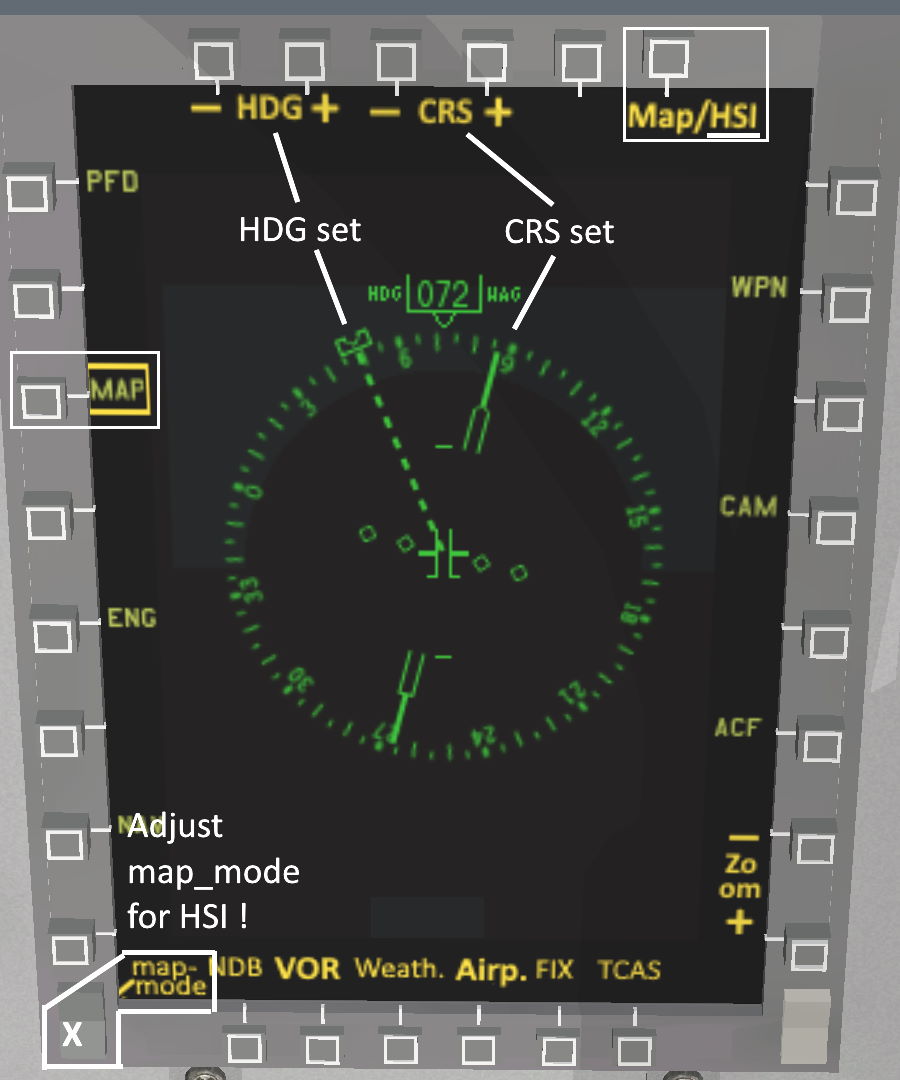 click for larger!


Bottom buttons to turn symbols Off/On:
NDB – VOR – WEATHER – AIRPORTS – FIX - TCAS
I recommend to have only one active: VOR or Airports.

Zoom Click + / - .
2, 5, 10, 20, 40, 80, 160 NM. Default 10NM.

map_mode - click for changes, and if HSI not shown.

TCAS - Other aircrafts, only if you have added AI-aircrafts, or have Traffic Global or similar.
HUD and UFCP are important in military aircrafts.

In the BFDG-sim-model one cannot enter values, only show values.


Autopilot, Radios, Transponder:
- Click for larger images! -
UFCP-buttons --> display in DED

All show frequencies for: Nav1, Nav2, ADF.
And weights: Total and Fuel.

VV  - VV, ALT- Vertical_Velocity, Altitude
RA/H - ALT, RALT - Altitude (baro), Radar-alt.
F/ACK - HDG, IAS - present heading, indicated airspeed

WYPT - FIX, DIST - Waypoint ID, Dist NM - nav1!
XPDR - XPDR, MODE - Transponder Nr, Mode (on/off)
TIME - T MIN, T MIN - to waypoint,mins to nav1,nav2

MARK - LAT, LONG - for plane now
FIX  - DTK, TRK / DIST, ETE / to nav1.
  DTK = Desired_Track, TRK = current_Track,
  ETE = Estimated_Time_Enroute, minutes
TIP  - HDG-now, JUSTUS-MOD added CRS + HDG-bug

CLR, ENTR, M-SEL - shows nothing, no fcn here.
In real world used to Enter values with digit-buttons.
(M-SEL resets closed display).

CZ - CRUISE: HDG, ALT, IAS
AIR/SPD - IAS, TAS - Indicated_Air_Speed, True (rel.ground)
WRN/RST - shows nothing, no function.

---
Note: These buttons are On/Off-btns with higher priority for higher numbers. Not swap or flip!

Avoid pressing: X-On,...Y-On,...Z-On,...
Instaed: X-On,...X-off,Y-On,...Y-off,Z-On,...

Same for MFD-btns: prio PFD-MAP-ENG-WPN (highest)
Autopilot, AP, från S-TEC



HDG - AP turns to your chosen HDG-direction.
ALT - AP holds present altitude.
VS - Change Alt by increasing or decreasing
  Vertical Speed with the rotary button.

NAV - AP turns to CRS-Course set for NAV1-VOR.
  To fly From a VOR, set HDG eqaul to Course.

APR - Approach to ILS.
REV - Reversed ILS approach.

Auttopilot Manual: see your XP11-directory
"/X-Plane 11/Instructions"
Use UFCP-TIP when you set HDG or CRS
Complex systems!
It is easier to set HDG-desired, with UFCP-TIP active!


Remark: to use these knobs for CRS,HDG is a very special usage done in BFDG-XP11-model! Ususally done with rotary knobs.
To PAUSE or fly LIVE - that is the Question
One can use 'P'-key to pause simulation, and still change radio frequencies, HDG-value etc.

In real flying, pilots use autopilot to get a "pause" from steering, and then change freqs, HDG etc.

Quickest AP activation is "Wings level + Keep attitude". You can program keys on your joystick fot this.
- Wings level, keep roll
or Altitude hold.
- AP Off: Disco servos, engage,..


Routes with many Waypoints?
You may try some addon, e.g. TonyVier's
"Extended Radio and Nav Stacks", at X-Plane.org.