Air Light Beacon on Sviby Kasberg, Mariehamn, Åland (F01)
Lat, long WGS84: 60.15504, 19.94856
NEW April 2012: Links to webpages about Pintsch-lamps and about Mariehamn airport.

In Mariehamn there was an air light beacon on the hill Sviby Kasberg.

Patrick J. Nordberg informs: "At first there was an air light beacon on the hill Sviby Kasberg,
then there was a radar installation, and to-day two radio communication masts."

The road leading up to the hill is named "Flight Beacon Road", according to maps on Internet.
Photos
The beacon lamp from Mariehamn is preserved at Finland Flight Museum at Vanda airport in Helsinki. Photo by Juha Klemettinen. NEW webpage on:
› PINTSCH-lamps for air beacons

Advertisement from Helsinki Airport Yearbook 1938. This type of concrete towers were used in Finland.
Scanning by Raine Haikarainen, FlightForum.fi


We would like to obtain photos of Sviby Kasberg air beacon, and photos from the site to-day.!

Mariehamn Airport
To-day a modern airport with 1900 m runway, VOR/DME, ILS etc.
The first airport in Mariehamn was a sea-port in Österhamn.
In 1937 construction of a land airfield west of town was started.
NEW webpage about › Mariehamn airport

Old photo from Österhamn, Lilla Holmen. From a small book on
Åland's mail during 250 years, see Links below.

Maps
Overview map for Mariehamn, from Maps.Google.se:
F= Air beacon on Sviby Kasberg, J= Jomala church,
M= Mariehamn airport, H=Österhamn, once sea-airport
S= Sail ship s/s Pommern, P= Post Office Åland

White symbol x = beacon-coordinate from 1937 displayed in WGS84. It illustrates the difference between these two assessments of "true" lat, long.
Detailed map
› Map from Finnish Mapping Agency
("Maps for everyone"-site) showing
- Sviby Kasberg in upper rigth part with a triangle point 66.5 m and radio masts.
- Mariehamn airport down left. Mariehamn town center is down to the right.

"Maps for everyone-site" - has detailed maps and aerial photos on Internet for Finland and Åland. You can create a link to a map with user-defined window and text. One can convert coordinates etc. Menues are available in Finnish, Swedish, and English.

> Legend, pdf - symbols and texts in all three languages.
Stamps from Åland Post
Åland Post publishes beautiful stamps, in 2007 with air mail flight motives, designed by Peter Bergström:

Sightseeing
Sailship s/s Pommern, museum ship in Mariehamn western harbour.
Shipping and ships have for long been important parts of Åland's economy.
Photo by Mark A. Wilson, Wikipedia-Mariehamn - Wikipedia Commons, public domain.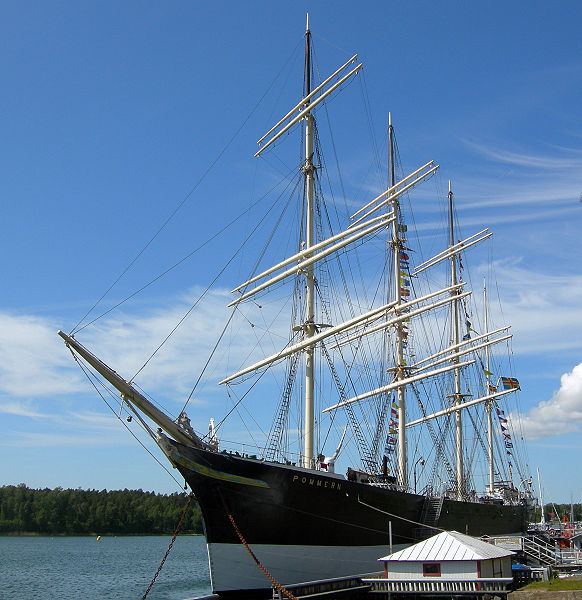 Links


Last updated: 23 April 2012, Bo Justusson, Stockholm,
Contact: justusXownit.nu - replace X with @.