• Simulatorer (sw) • Simulation (en) Wales, VFR photo scenery
Wales VFR Plus - Landmark addons to photo sceneries in FSX
- ver 0.7 BETA, 3 May 2016

UK

I made this page for my own sim-flying in Wales. It may be useful for others too, so I put into Internet.
- Scenery used is Just Flight VFR Real Sceneries, Vol 3 Wales & South West England, for FSX Steam.

Contents: About photo sceneries. Objects well visible. Added landmarks.
Flight tours. Maps. Best aircrafts. Airfields & NDB/VOR. Links. Refs.
Wales is excellent for flights with FSX photo sceneries!
Wales has a varying landscape that comes to life with photo-based sceneries: high mountains, deep valleys, coastlines with steep cliffs, sandy beaches, tidal flats, and small agricultural fields bounded by trees, quarries (open pit mines), many golf courses,...

This can be further improved by adding landmarks like lighthouses, medieval castles, wind farms, refineries, bridges, airfield buildings,...

You get the best views flying slow and low - at 1000 to 2000 feet altitude. For suitable aircrafts, see section below

Cessna cockpit views: Snowdon Mountain (right), Llanberis quarry (left)
- One sees footpaths and railway winding up to the top - real photos!


When are photo sceneries good and when bad?
Aerial photos are taken downwards, not forwards.

When we fly and look forwards it works well for relatively flat objects like gravel, grass, bushes etc. that tightly follow ground height variations, but not so good for buildings since we recognize them by their walls, not by their roofs!

Note also that it is when you look down-left from your aircraft that you come closest to the aerial photo view.

In future, we will probably get faithful 3D represen­tations of all buildings!
Objects well visible in photo-based sceneries
- Mountain peaks - e.g. Snowdon 1085m,
Aran Fawddwy 907m, Brecon Beacons 886m.

- Quarries (open pit mines) - for slate and minerals,
both historic and in operation. Wales once produced
slate tiles for roof covering to all of UK!

- Sandy beaches and tidal flats - e.g. around Swansea.
The aerial photos were often taken at low tide.

- Shore lines with steep cliffs.
Mind though that textures can get rather stretched.

- Golf courses - one can see sand bunkers,
fairways and greens. Wales has many golf courses!

- Railway lines following valleys - Famous preserved:
Ffestiniog, Talallyn, Vale of Rheidol, Snowdon Mtn.

- Lakes and Reservoirs
Small lakes once created from glaciers, e.g.
Llyn y Fan Fach in Brecon Beacons mountains.
Reservoirs, for some one can also see its dam.


Cockpit views:
Tidal flats west Swansea. Cliffs with lighthouse.


Caernarfon golf course Glacial lake in Brecon Beacons

Landmarks added to improve sceneries
Sceneries based on aerial photos lack significant landmarks. I searched the Internet for objects to add, and then merged them into two scenery file for ease of handling. They contain:

- Airfields improved with buildings & aircrafts.
by Alf Denham (7), Terry Shields(1), Tony Meredith (1), Gordon Barnes (2)

- Wind farms, each with many wind turbines.
13 by Dale Sedgwick, and one by Neil Birch

- Oil refineries in the UK, by Gerry Winskill.
Three in Wales around Milford Haven.

- Medieval castles of North Wales (6) by Chris Reynolds. - Castles is South Wales (8) added by me (to be improved), using Chris' models.

- Lighthouses around Wales' coast (18) by me, Bo Justusson. At significant capes, with FSX standard objects.

- Bridges: Severn bridges (2), by Iain Murray
Barmouth bridge added by me.
- (Wanted: Menai+Britannia bridge, Llangollen bridge+aqueduct)

- Dams: Stwlan dam and power station, 3NM SW Ffestionog, by Chris Reynolds.
- (Wanted: Elan dams !)

- Obstacles, ANO in UK by Gerry Winskill.
Here, masts & pylons in Wales (~12).

- Industries, a few added by me.
- (Wanted: Port Talbot and harbours)

- Cardiff City Landmarks, by David Morgan - detailed models of Stadium, Castle, University, museums and other prominent buildings, and also high modern buildings. Very professional!

- Ships: 4 tankers Milford Haven, 2 ferries Holyguard, 1 ferry Fishguard. By Bo Ju.

Cessna cockpit views:
Refinery & lighthouse, Milford Haven. Wind farm, close-down view


| | |
| --- | --- |
| | Castle - Beaumarais, Anglesey |


Radio mast - model matches photo! Cardiff City Landmarks.

Download files:
Airfields of Wales. Landmarks of Wales

• Wales_airfields_bj.zip - 17MB

• Wales_landmarks_bj.zip - 9MB

These are combo files with free scenery data from many sim developers. Their documentations are included in /docs directory. More • References below.


Installation:
- Copy directory /Wales_airfields_bj to FSX/Addon Scenery
(or other directory, for FSX Steam it must be under /FSX ).
- Register scenery: Start FSX - Settings - Scenery_library -
navigate to /Wales_airfields_bj and click OK.
There is a bug in FSX so the window does not disappear.
Bug-fix is to click in any white space.

- Repeat for /Wales_landmarks_bj
- Check which active sceneries to use - unmark the others.
Too many active ones may give problems/collisions.
- Test! - Free flight from e.g. Caernarfon airfield.

Tours in Wales - What to see
Tour 1. Around Isle of Anglesey. Start at Caernarfon and begin eastwards. You will see. 2 castles, 5 lighthouses, 3 wind farms. Holyhead harbour and RAF airbase Valley. ~66NM

Tour 2. Zig-zag Snowdonia: Caernarfon - east into Llanberis valley with large Dinorvic quarry, fly beside Snowdon Mt, with well visible pathways. Turn left, and then west into Nant Ffrancon valley to Penhryn quarry. Onto the southern valley with pass Aberglaslyn. Turn right and return to Caernarfon. It is easy to get lost! NDB 320kHz in Caernarfon can help.

Tour 3. Northern Coast - from RAF Valley to Hawerden/Chester. Castles in Beaumarais and Conwy. Large quarry Penmaenmawr (circle around it!). Wind farm 8km out in the sea. Leisure region around Rhyl. ~60NM

Tour 4. Navigation inland: Hawarden - Brenig Reservoir - Bala lake - Chirk castle - Criggion secret radio station (WW2-2001) - Welshpool. More difficult, no coast to follow! Use map below to measure heading and distance for each leg. Check flying-time - 2 NM/min! ~68NM.


Photos:

i

Castles of Wales

i

Slate Industry of Wales


i

Visit Wales Railways

i

Google Maps, search by names
Tour 5. Four railways: Aberporth - N along coast, pass wind farms, check Vale of Rheidol Rwy, and Talallyn Rwy (not in the big valley!), and Ffestiniogg Rwy, large quarry, then fly to Snowdon top and follow Rwy down, land at Caernarfon. ~105NM.

Tour 6. Around Pembrokeshire: Haverforwest, N to Fishguard harbour, west along coast, St Davis cathedral, Milford Haven refineries, east to Pembrey. You will see sandy beaches, tidal flats, lighthouses,...

Tour 7. Southern coast: Swansea - west to Worms Head cliffs, east to Port Talbot industrial site, pass St Athans and Cardiff airports, over Cardiff City (prominent buildings!), Severn bridges, back to Cardiff Airport (detailed!).

Tour 8. Breacon Beacon mountains, search for ruins and lakes: Pembrey, Kidwelly castle, Carreg Cennen ruin - Llyn-y-fan-Fach small lake - Brecon Beacon top - Black Mountains - Llanthony Priory ruin - Hay (booklovers town) - Shobdon. Difficult!

(• More Info about the Flights)
Interactive Map: You can measure Hdg and Dist with mouse:
ButtonDown - Drag - Release. | Repeat, or Clear with click.
Cruise speed ~ 2NM/min
Zoom: Ctrl+/-. Map image jpeg files - click for direct load if needed: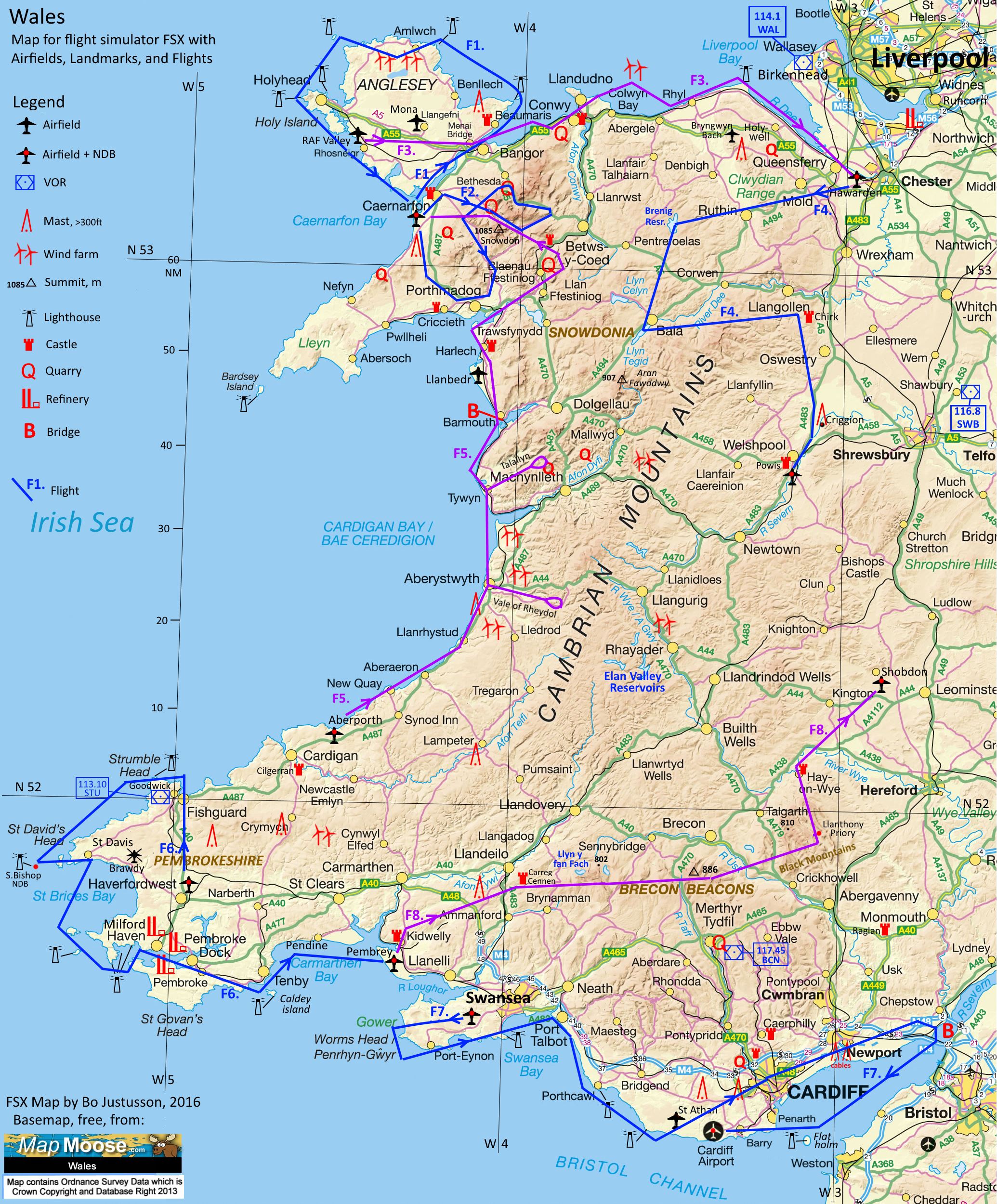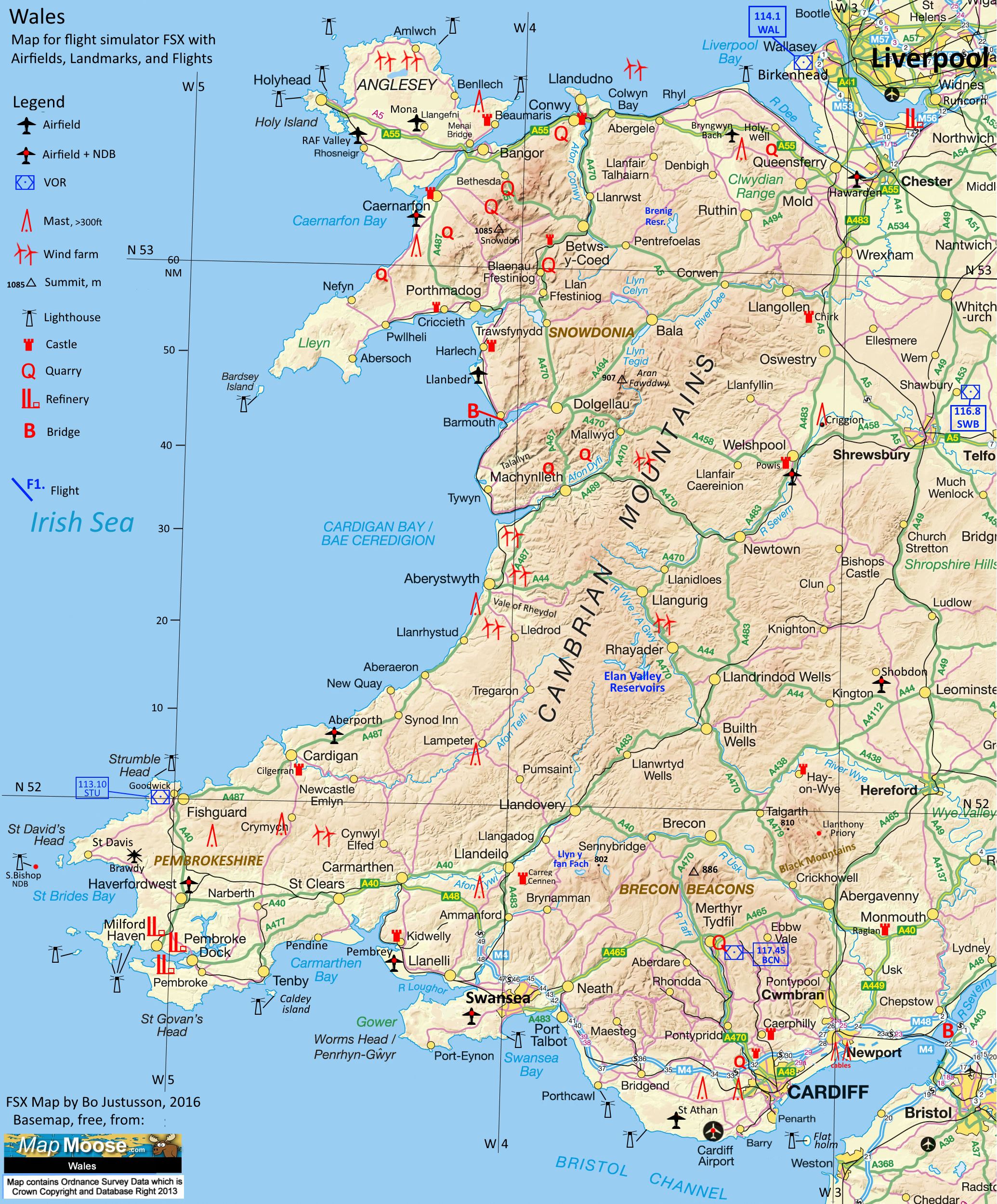 About the map, see Refs below.

Aircrafts for VFR flying
Photo sceneries are best seen form a low-speed aircraft with free view both forward and down left, and from altitude 1000 - 3000 ft. Hence, avoid jet airliners, jet fighters, DC-3, and also Piper Cub (its wings limit the view).
Cessna 172 - in FSX
Cruising speed: 120 Knots (NM/h) = 2 NM per minute.
Cessna gives you a good view down left, where aerial photo sceneries look best, since aerial photos are taken downwards!
Maule Orion M-7-260C - in FSX
A lively and sturdy aircraft with STOL properties. Its extra low side-windows gives a very good view both down-left and down-right! Cruise speed 142 knots = 2.4 NM/min.

It has no ADF for NDB beacons. A simple fix is to replace its panel.cfg by this download: panel.cfg with ADF, only 2 lines changed! - You must set NDB frequency in radiostack window: Shift-2 .
Junkers W33 - free download, made by Hauke Keitel and Rolf-Uwe Hochmuth. Open cockpit, slow and old-fashioned!
Speed: 185 km/h = 100 Knots (NM/h) = 1.7 NM/min.

- I have added ADF for NDB. You set frequency by clicking left/right of rotary knob. Download:
• Junkers_W33b_BJ.zip - 7MB

- Problem in rain: windscreen grey and not transparent.
Universal fix for FSX is to replace some files in FSX/texture:
• VC_Rain_fix.zip

Dragon Rapide - free download. An old-timer with a real glass cockpit - it is like sitting in a glass-house! Of course, no fancy computer stuff in that aircraft.
Alabeo PA38 Tomahawk - to buy at Steam
Good view out front, fairly good down-left.
Cruising speed: 100 Knots (NM/h) = 1.7 NM/h.

- Bug for ADF: change of digits is placed too low, and - above +.
It helps somewhat to use: View-Cockpit-Panel.

Airfields and NDB,VOR in Wales - North to South
In FSX original, small airfields have none or very few buildings. Larger airports are better, e.g. Cardiff.

I have collected airfield addons into one file, see above. Contributions: Alf Denham has made addons for many small UK airfields, five in Wales. Terry Shields has a detailed scenery for Cardiff airport. Plus material from several others.

You can buy large collections of airfields, e.g.
- Just Flights UK airfields or UK2000.
- Sim720's Caernarfon, airphotos + trees and houses, at Steam.


To-day: For airfield data and navigation aids to-day, in real life, see • Links - SkyVector.

Caernarfon airfield, in North Wales, Alf's version. - Good starting point.


Altitude mismatches can occur when different scenery add-ons are combined. Here, before adjustment, buildings were not to be seen, but with my simple fix the only problem left is a "flying" hangar. See Refs.


Abreviations in scenery descriptions:
T=Tower, H=Hangars, B=Buildings, C=Cars, A=Aircrafts.
Airfield
Runways
Navigation aids, in FSX
In fligthsim sceneries
Northern Wales
EGOV Valley AB, Royal Airforce station
- on Isle of Anglesey, Rhosneigr. With Hawks for training, and rescue helis: • Wiki
RWY 14/32, 1/19, 8/26, PAPI
DME, OM+MM
FSX: some buildings.
Addon by Gordon Barnes:
T+H+B+C, no A
EGOQ Mona AB, RAF+civilian
- on Isle of Anglesey, Llangefni
Relief landing ground for Valley. • Wiki
RWY 4/22, VASI
Light beacon tower.
FSX: only tower.
Addon by Gordon Barnes:
T+H+3B+2C, no A
EGCK Caernarfon - south of Anglesey.
- Good starting point in North. • Wiki
RWY 8/26, (2/20)
NDB 320 kHz CAE
FSX: rwy + light beacon mast.
Addon by Alf Denham:
T+2H+xB+xC+xA!

* Sim720 addon at Steam
EGNR Hawarden, Chester
- far east, near Liverpool. • Wiki
RWY 5/23, PAPI, ILS
NDB 340 kHz HAW.
FSX: several buildings, no A.
VOR Wallasey - 5 NM west Liverpool C,
- 14 NM north Hawarden
-
VOR/DME 114.10 MHz WAL
-
EGOD Llanbedr AB, formerly RAF-base
- at the coast, south of Ffestiniog. • Wiki
RWY 18/36, 5/23, 16/34
PAPI 18/36
-
FSX: only tower. Two parallell Rwy now closed (X).
* No addon!?
EGCW Welshpool - inland, near castle Powis. • Wiki
RWY 4/22
NDB 323 kHz WPL, DME, APAPI(?)
FSX: only rwy and radio equipment.
Addon by Alf Denham:
T+2H+3A +surroundings: many B, powerline.
Southern Wales
EGBS Shobdon - inland,
- actually in the Midlands. • Wiki
RWY 9/27, APAPI (2 lights)
NDB 426 kHz SH
FSX rwy and navaids, no B.
Addon by Alf Denham:
2H+7B+15A! +surroundings: farm, industry.
EGUC Aberporth / WestWales
- at Pembrokeshire northern coast. • Wiki
RWY 8/26
NDB 370.5 kHz AP
FSX rwy somewhat high.
Addon by Alf Denham:
T+2H+13B+9C+2A
VOR Strumble - Pembrokeshire north coast - 12 NM north Haverfordwest
-
VOR/DME 113.10 MHz STU
-
NDB South Bishop, at lighthouse - 12 NM WNW Haverfordwest
-
NDB 290.5 kHz SB
-
EGFE Haverfordwest - mid in Pembrokeshire - north of Milford Haven (refineries). • Wiki
RWY 3/21, 9/27
NDB 328 kHz HAV, DME
Light beacon tower
FSX a few buildings(?).
Addon by Anthony Meredith:
T+2H+1B(large)+3A
EGFP Pembrey. ex RAF base. • Wiki
RWY 4/22
NDB 341 kHz PMB
FSX fairly good.
EGFH Swansea
- Good starting point in South. • Wiki
RWY 4/22, 10/28, X15/33
NDB 320.5 kHz SWN
FSX has buildings (?).
Addon by Alf Denham:
T+2H+10B+20C+3A (field raised, minor problem).

EGDX St Athan, RAF base (until 2019) • Wiki
RWY 8/26, PAPI
DME
FSX: only tower.
Addon by Terry Shields (in EGFF):
some B.
VOR Breacon - 21 NM north Cardiff
-
VOR/DME 117.45 MHz BCN
-
EGFF Cardiff International, at Rhoose
- Detailed scenery by Terry Shields. • Wiki
RWY 12/30, PAPI, ILS
NDB 388.5 kHz CDF, DME
FSX: terminal,hangars.
Addon by Terry Shields:
very detailed and animated!
Isle of Man - 40 NM north Wales. Not in VFR Real scenery.
EGNS Isle of Man Airport, at Ronaldsway
RWY 8/26, 3/21, PAPI, ILS
NDB 359.0 kHz RWY
VOR 112.20 MHz IOM
(VOR is 4 NM west)
FSX: good with terminal, hangars.

---

The Rest is Only Notes, Links and References

Installation of Steam FSX - My Experience
1. FSX Steam is much more stable than old FSX. It has better RAM memory handling.
Use a SSD hard drive for FSX. Otherwise scenery load takes too long time.

2. How to buy: - You shall register an account at Steam.
Then buy FSX alone, no addons at first purchase.
Addons get installed into Steam-FSX folder FSX/DLG, which must first exist!

3. Check Settings: Screen to your screen size. Display settings to max or almost max!
Turn off the annoying intro music - Settings Sound...

4. Avoid double installation: FSX old + FSX-Steam. Creates problems, and old FSX is unstable.
Uninstall of FSX clears in Registry, but does not erase files.
Do that manually, and keep what you want.

5. Graphics card activation (Laptops mainly?). Check with Nvidia Geforce that fsx.exe is set to use GPU.
If you check inside FSX for GPU use, it may wrongly show that it is not used, but it is!
Seems to be a GPU-detection bug in FSX-SE. To check for certain:
Go to Nvidia Control panel and activate GPU-icon:




6. Run in Window mode. Better than fullscreen, in my opinion: Alt+Enter swaps.
Use Virtual cockpit.

7. Standard settings for joystick-keys are: hat=turn view, 1=break, 2=swap view,
3=trim nose down, 4=trim nose up, 5=flaps out, 6=flaps in.

Some other useful FSX keys:
G = Landing Gear in/out,
P = Pause,
Q = Quiet,
+/- = zoom in/out,
Esc = End (flight, FSX)
Alt+Enter = WindowMode/Fullscreen.
Ctrl-Space = Reset view forward.

Y = Slew, move fast using joystick,
but scenery reload takes time.
Slew: Altitude +/- slow: Q/Z, fast: F4/F1
Slew: Altitude Freeze: F2

Alt -> W -> M for meny World Maps,
where you can see airfields, radio beacons (ADF, VOR, DME, ILS)

8. Scenery Addons:
8a. Scenery addons from other than Steam - must be put in directory inside Steam's /FSX
either under a directory you create (.../FSX/my_addons) or under .../FSX/addon scenery

8b. Register: After adding a scenery library (a directory say "/mysc" with two sub-directories:
/mysc/scenery with .bgl-files, and /mysc/texture with image-files ) - you must Register /mysc :
* Start FSX - Settings - Scenery Library. Click Add and navigate to correct directory /mysc
- if FSX accepts it fills in name. Click OK - then a BUG: window stays up!
BUG-FIX: click anywhere in a white space and it disappears. Done - now fly and test!

8c. Order: Scenery plotting order is down and up. Are they in good order?
Turn off (unmark) sceneries you do not use. Mismatch is often a problem.


What next? You may contribute!
- I tried X7BB Bryngwyn Bach air strip, by Alf Denham, designed for FSX default,
but it did not fit well into Photo scenery mesh (ground elevations).
- Adjust and improve castles and ruins. Add: Pembroke castle, Castell y Bere ruin.
- Add ships OK done: Ferries in Holyhead and Fishguard.
Tankers in Milford Haven 4 OK. And Port Talbot.
- Better stacks, chimneys, cooling towers - from FSX Power project:
Aberthaw B power station, Uskmouth power station.
Cardiff chemical tanks, Llyn Celyn reservoir dam.
- Add David Morgan's castles Caernarfon, Harlech.
- Add some aircrafts on RAF Valley and Mona - many standard jet trainers, 1-2 jets, some oldies?.
- Aircraft - add zip-file for DragonRapide, with ADF.

WANTED: You may contribute:
- Adjust Severn bridge western landing to roads i photo scenery (enough to change hdg?).
- Bridges to Anglesey - Menai bridge and Britannia bridge - two very special ones!
- Newport Transporter Bridge, over Usk river.
- Dams for reservoirs, esp. those in Elan Valley.
- Aluminium Smelter, Holyhead
- Harbour: area_Holyhead.bgl
- Harbour: area_Fishguard.bkgl - add ferry and buildings.
- Port Talbot - industry scenery - area_Talbot.bgl
- Power stations: Wylfa nuclear at Cemaes, N Anglesey (1970-2015),..
- Static aircrafts with small file-sizes for Hawk jet trainer,
and helis Sea King yellow, Sikorsky S92 white/red.

N.B. Keep filesizes limited to a few MB each.


Links for Maps, Aviation Info, and Tourism
References for Scenery
Freeware, used for combo files
Downloaded from: • AVSIM library, • flightsim.com, • simviation.com (search: UK airfields), • CIX VFR Club
Airfields
Small airfields in the UK - by Alf Denham, packaged in Volumes 1-34 (2016).
They cover many UK airfields (~80 in 2016, 5 in Wales) and have 3D buildings constructed by Alf,
and some FSX generic objects. Each scenery file is self-contained.
- Selected for combo file: EGCK Caernarfon, EGCW Welshpool, EGBS Shobdon, EGFA Aberporth, EGFH Swansea.
Tested X7BB Bryngwyn Bach, a grass strip 6NM SE of Rhyl, but Rwy had too large altitude diffs.
• Interview with Alf Denham at FlightSim.com - Alf describes his methods and tools, very informative!
- Remark: If large altitude errors occur for photo sceneries, you can try this FIX:
Inactivate cvx-files (exclusion files cvxNNNN.bgl) by renaming to say ._Xbgl . I used it for Caernarfon.

EGFE Haverfordwest, by Anthony Meredith.
- Anthony has also made a model of Brawdy, a closed RAF airbase east of St David's.
Not included in my file, but the airfield is well visible in photo scenery.
EGFF Cardiff airport - FSX has a reasonably good model with terminals and an aircraft.
- In combo file: Cardiff airport, by Terry Shields, freeware 2.8MB. (with correction for St.Athans).
- Another scenery is Cardiff airport, by Gary Summons/UK2000_Scenery, Basic Free 25MB, or Extreme 77MB.
RAF airfields on Anglesey, by Gordon Barnes, at flightsim.com.
- Valley RAF EGOV (RAF main base in Wales) 0.2MB,
- Mona RAF EGOQ 0.3MB.
- See also large model for RAF Valley, link below.
Airfields without freeware addons: - Llanbedr, formerly RAF EGOD, now EGFD. - Pembrey, Hawarden,...

Castles
• Castles of North Wales, by Chris Reynolds, cinemadetectives
Included are: Beaumaris (large2), Caernarfon (long), Conwy (long2), Harlech (large),
Criccieth (small2,cube), Dolwyddelan (small,cube).

• Mid & South Wales: I have added 8 castles, using Chris' models. Bo Justusson.
Preliminary version! - shall be adjusted in hdg and size. More realistic models would be welcomed!
Chirk (SE Llangollen), Powis (Welshpool), Hay (in Hay-on-Wye), Cilgerran (S Cardigan), Carreg Cennen (Brecon Beacon, west), Raglan (N Newport, 10NM), Kidwelly (Pembrey airfield), Caerphilly (N Cardiff).

• Cardiff castle and Tongwynlais castle (NW Cardiff) in Cardiff City scenery, by David Morgan.

Wind farms
• Wind farms in Wales, 13, by Dale Sedgwick
• Wind farm Llandudno, by Neil Birch, 8 Km off the coast.

ANO Obstacles e.g. masts >300ft ~11
• UK ANO FSX by Gerry Winskill. Only those in Wales (or close) in combo-file:
Masts, pylons and effect-smoke OK. But stacks, CWS, and cooling towers not visible. Missing Lib?
North to South:
- ano_Mast_LLANDONA.BGL (2NM NW Beaumaris, Anglesey)
- ano_Mast_Nasareth.bgl (Arfon, 6NM S.Caernarfon, highest in Wales, 317m)
- ano_Mast_Moel_y_Parc.bgl (8NM SE Rhyl)
- ano_Mast_WESTBURY.BGL (8NM N.Welshpool, Criggion secret ra-station, WW2 to 2001, 5 masts!)
- ano_Mast_Blaen_Plwyf.bgl (2NM S.Aberystwyth)
- ano_Mast_PENCARREG.BGL (Mynydd Pencarreg, 20NM E.Aberporth)
- ano_Mast_Presely.bgl (13NM S.Cardigan)
- ano_Mast_Haverfordwest.bgl (5NM N.Haverfordwest),
- ano_Mast_Carmel.bgl (10NM N.Swansea),
- ano_Mast_St_Hilary.bgl (4NM NW Cardiff airport, doubled in EGFF)
- ano_Mast_Wenvoe.bgl (4NM NE Cardiff airport, doubled(replaced?) in EGFF scenery)
• EGFF: Masts in EGFF scenery:
- St.Hilary (4NM NW of Cardiff, black-white, doubles! keep as example),
- Wenvoe (4NM NE C.airport, dark, doubles!)
• FSX: Radio mast (tower) i FSX, S.Caernarfon, doubles? Exclude, or keep as example?
N.B. mast+tower at Carmel and Haverfordwest.
I checked Transmitting stations, all high are included above.

Pylons
ano_Pylon_USKMOUTH.BGL (2 pylons S.Newport) - add power station!

CWS, Stacks, effects(smoke) listed here, but are not included in combo-file: - Clydach (stack) 1NM N.Swansea,
- Holyhead (stack) Anglesey NW,
- Llanwern (cws) + (stack, effect-smoke!, but no ind.) 2NM E.Newport
- Port Talbot (stack) SE.Swansea, effect?
- Usk Mouth (stack) S.Newport.
Anymore in Wales?

NATS Aviation Information Services (AIS, AIP)
Lighthouses around Wales, Bo Justusson. Standard FSX objects are used, hence only look-alikes.
At significant capes, anticlockwise from NE around to SE: - Point of Ayr,
- (Anglesey:) Trwyn Du, Point Lynas, The Skerries (island), Holyhead's waterbreaker, South Stack,
- (Lleyn Peninsula:) Bardsey Island,
- (Around Pembrokeshire:) St.Ann's Head, Strumble Head, South Bishop, Skokholm (island)
- (Milford Haven harbour:) Little Castel Head, Watwick Point,
- (South Coast:) Caldey Island, Mumbles Head, Nash Point, Flat Holm (island).
Remark: "holm" is from nordic language = "small island" - viking influence! - Stockholm is my home town!

Wales Map for FSX - How I made it:
I used a free Road map as base map, from mapmoose.com
Then added airport symbols, landmark symbols and flights, in separate image layers.
Software used was: Paint.net - a freeware similar to MS Paint but more advanced.
Javascript for Distance and Heading, developed by me, free to use with other maps!
Zoom: Map image size is W=2070 H=2500, so you can increase webpage size 200% (Ctrl +).
More info about FSX:

FreewareScnenery.com - Links for UK - and for many other countries!
Mutley's Hangar - mutleyshangar.com
Fsx Getstarted - fsxgetstarted.com

Some payware for Wales:
JustFlight.com - Just Flight's VFR Real Sceneries, England & Wales, Vol 1-4. Payware, e.g. at Steam
- The webpage you are reading now is for Vol 3. Wales & South West England.
• Just Flight UK airport and airfield scenery packages - from Gary Summons, UK2000.
UK2000 VFR Airfields Version 2, Vol.1-3
- Not tested by me. Check reviews and compatibility with Photo sceneries.
Horizon Simulation - VFR Photo X - Vol. 1 to 5 cover UK in bands from south to north:
- Vol.1. Southern England and S Wales. - Vol.2 Mid dito. - Vol 3 Northern dito. - Vol. 4-5 Scotland.
- Not tested by me.
Orbx fullterrain.com - FTX EU Wales - High quality land class based scenery, with many landmark objects.
• At FlightSimStore.com, 21 €, 2.2 GB
RAF Valley by MSPG Simulations - Large scenery under development - free BETA available (2016, 48MB!)
Treescapes - autogen trees added to photo sceneries.
- Not tested by me. Pros: better 3D feeling. Cons: not the real world anymore.
FlightStore.co.uk - SALE of Horizons VFR, Airfields UK, and Treescapes - DVD-versions (seen in April 2016).

Open VFR - Autogen buildings addon for Photo sceneries
- Not tested by me. Pros: better 3D feeling. Cons: standard buildings.

The Sim720 team has made a detailed Caernarfon airport with surroundings(5x4km), sold on Steam. They have added houses and trees with correct sizes. It is instructive to compare that with pure photo scenery! One good use of detailed surroundings is when you are training landings.
Similar addons covering large areas are Treescape and VFR Buildings.
Pros are better 3D perception, cons are more synthetic visualization.

Comments and suggestions are welcome.
Last updated: 3 May 2016, Bo Justussson, Stockholm
Contact: justusXownit.nu - replace X by @